Looking for Lewis: Day 2
—by Nathan on June 20, 2016—
My dad and I did not have the luxury of resting our eyes as long as we had the previous day. Though 7:30 isn't exactly early, yesterday's activities wore us out a little. Walking can do that. However, we had business to conduct in the morning, so we needed to get moving.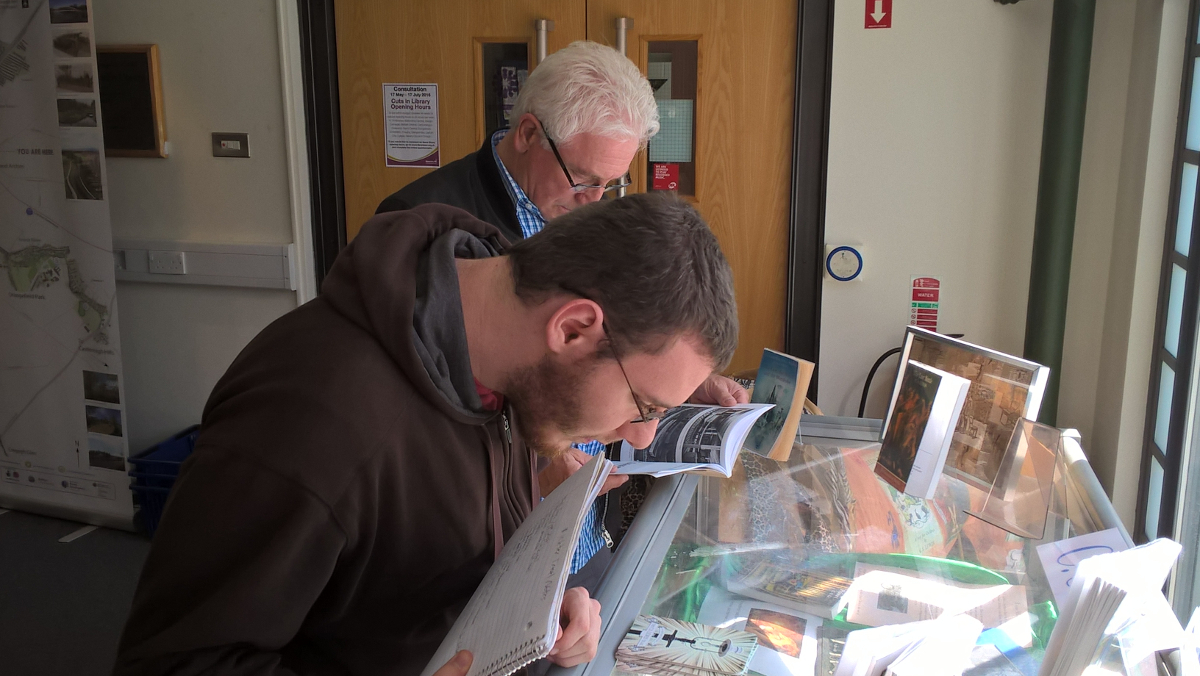 Tour with Ken Harper
On today's docket was a taxi tour I had arranged over the previous months with a man named Ken Harper. Mr. Harper gives a variety of tours around the Belfast area, and he says his primary one goes over places associated with a period of Irish history called the "troubles," a timespan covering the conflict with the Irish Republic Army. As fascinating as that tour would be, I was really pleased with his C.S. Lewis tour, which he says isn't nearly as popular but is still very informative. Mr. Harper conducted us around Belfast in a taxi that is quite different in color and size than the yellow cabs one can see in an American city. Interestingly, Mr. Harper informed us that, due to "disruptions" (which essentially means construction, specifically to improve the area of the tour that he's giving), the C.S. Lewis tour isn't as up to snuff as it typically is; however, I found that I still enjoyed it immensely and learned and saw a lot.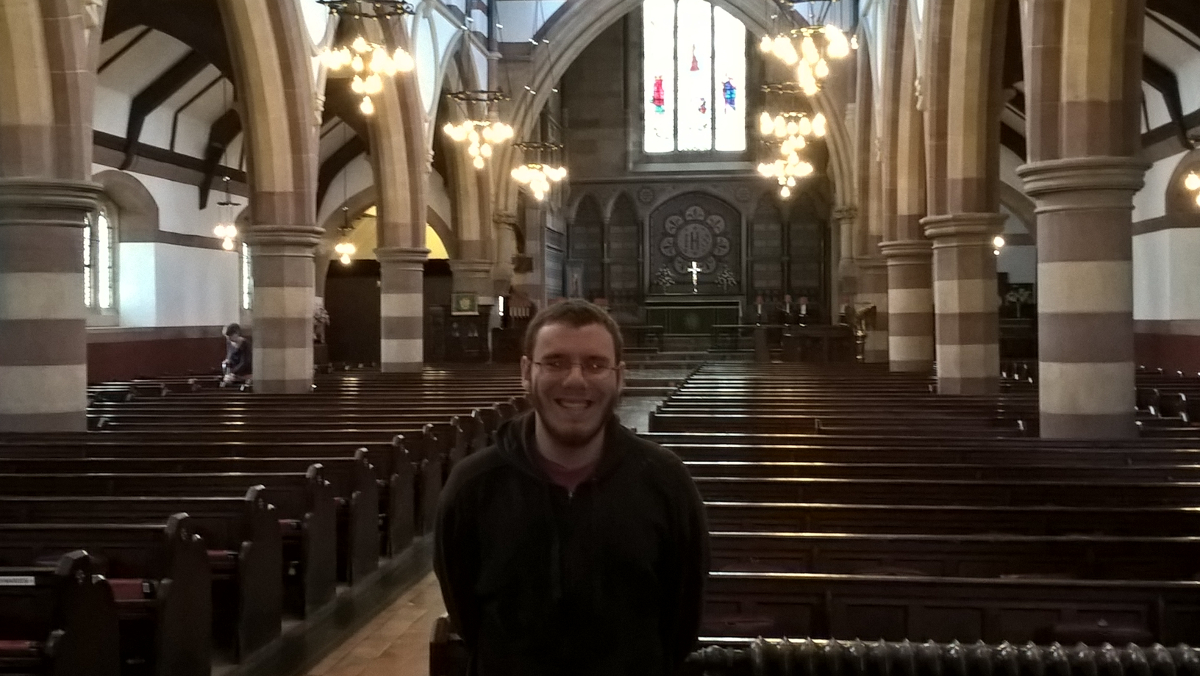 St. Mark's of East Belfast: The Lewis brother's boyhood church
We were able to see quite a number of places throughout the area related to C.S. Lewis, and Mr. Harper did a great job tethering it to Warren. We saw: the former Dundela Villa (now called Dundela Flats), the place where Jack and Warren were born and lived until 1905; St. Mark's of Ireland, a church where the boys were baptized by their grandfather Reverend Thomas Hamilton, attended services with their parents, and dedicated a stained glass window in honor of their parents; Little Lea, the home where the boys grew up and invented fantasy worlds together (which would have been amazing to enter, but because it's a private residence, we could only view and take pictures of the exterior); and Holywood Hills, where the boys would bike for hours together and visit a town called Holywood (no, that is not a typo and has nothing to do with California) as well, where they could secretly smoke and sip a pint, away from the watchful eye of their father.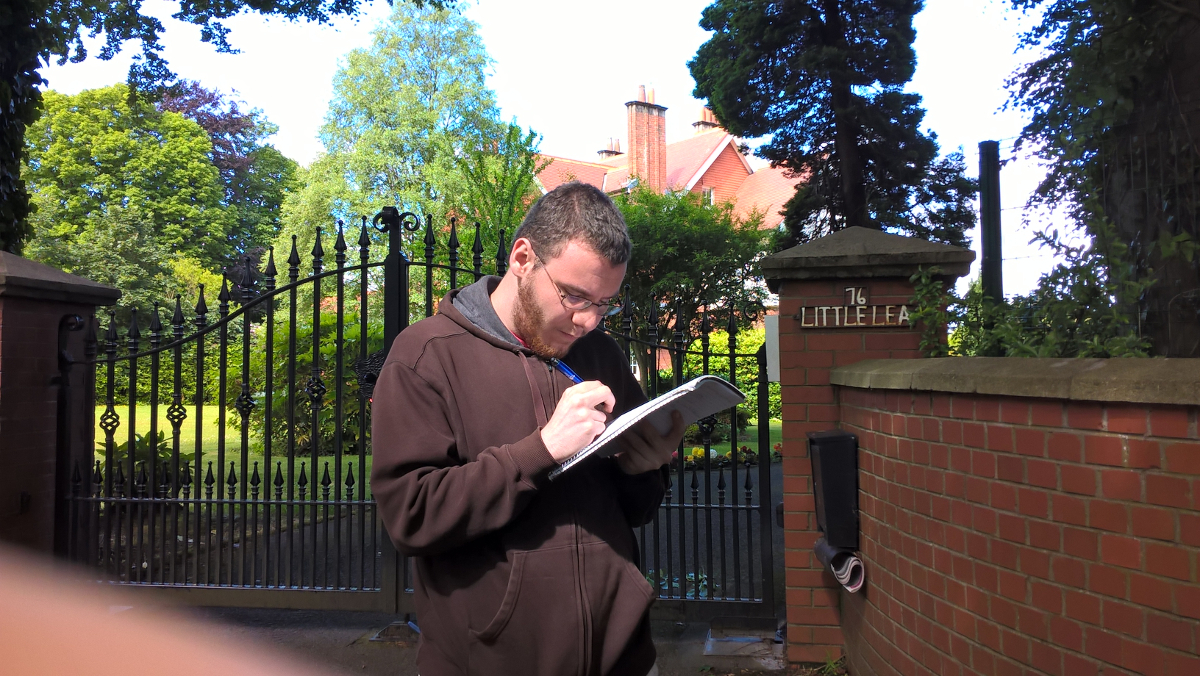 Little Lea: The Lewis brother's boyhood home
The tour, as I said, was great, and gave me a cool visual glimpse into this particular section of Belfast and how it pertained to Warren exactly. These are his stomping grounds, this is the area he grew up in and explored and loved. His family history is rooted here, his childhood is rooted here, his adulthood is reflected by these places, and he and his brother were molded by what they did and where they went. I'm trying to look for connections between Warren's childhood and his later years. There, fortunately, seem to be many in the Belfast area.
After this pleasant experience, Dad and I returned to our hotel room to drop things off before heading into town. Our hotel is actually pretty nice and is located right next to a Titanic Museum that we haven't checked out yet and, considering we're leaving for England tomorrow, probably won't. The Public Record Office of Northern Ireland (PRONI) is right across the street from our hotel, so we popped our heads in to see if we could find anything out, but it seems like the type of place where you need to make an appointment or at least do some research beforehand before taking advantage of their resources. However, on the fun side we were able to check out a strip mall-like area in the middle of Belfast; looking like a wheel with several spokes poking out of the middle, the stores sell all kinds of things, and many stores are variations on places we would find in America (such as their version of the dollar store—Poundworld, where everything is a pound). I've never heard of certain clothing or brands or even car manufacturers, but as I wrote yesterday, there is the sense of the familiar here. I've been trying to think "What place in America would I compare to here?" and it's hard to pinpoint. Belfast is clearly a modern city, but you'll run into these very old buildings every once in a while. It's a jigsaw puzzle of old and new. Neither Dad or I are shoppers, but we were able to explored a section of Belfast we hadn't seen the other day and even sharpen our navigating skills. After a couple of days, I think we've finally learned our way around a little. Not much, but a little. That's something, right?
We were unable to join the 3:00 tour of Belfast's City Hall, per a suggestion made by Mr. Harper, so we put our names for the 4:00 tour and grabbed a delicious lunch at a deli called Sawer's (which seems to be pronounced "Saw-ers," with an emphasis on both syllables). We each got a pretty great sandwich, but I let my dad eat my spicy noodles with vegetables, which he didn't like as much, but not as much as I didn't, but he ate it anyway. They also sell Turkish Delight, but we didn't buy any of that; I just thought it was a cool find. For those of you not in the know, Turkish Delight is featured in C.S. Lewis' The Lion, The Witch, and the Wardrobe, so I thought that was pretty appropriate.
The tour of Belfast City Hall was cool. Like the taxi tour, it gave us at a nice glimpse of Belfast history, and it's actually within the time frame that I'm looking for information on Warren, so it can always be used for contextual historical information. It's cool to see that even elements of Belfast that I never intended to use as research can still give me some great help in developing my project.
After the tour, we walked around the Belfast area a bit more. Got a look at the Grand Opera House, which may be the modern day equivalent of the "hippodrome" Warren talks about in his diaries. We found a book store and, of course, I zipped towards the graphic novel section. Surprisingly, I discovered that this shop, at least, sells more recent issues than certain American bookstores do. Quite disappointed in Marvel. Prices are probably worse here, but you can't beat the expediency.
The day ended with buying a bit more food at a store outside our hotel. Breakfasts have tended to be a bit small here, but I don't find myself growing hungry. Right now, we finished up Skyping my family again and are resting a little before heading to bed.
Tomorrow, we fly to England. And just when I finally get used to the Irish accent.