Looking for Lewis: Day 4
—by Nathan on June 22, 2016—
Today began the true adventure of looking for Warren Hamilton Lewis in England. Yet again, our intrepid father-and-son travelers were up bright and early to tackle the rowdy roads and treacherous turnabouts of England. Luckily, our dynamic duo (I'm Batman, by the way) faced them with gumption and steely nerve, grateful for the lessons learned from the previous day's debacles.
In other words, Dad wove his way around and I occasionally offered guidance by using the GPS (I'm still Batman, though…I'm just letting Robin drive the Batmobile).
However, we could not defeat all our foes and so were slightly miffed by unexpected rain and construction which impeded our progress slightly. Nevertheless, we were able to drive to Malvern College, the next site on our list and the one furthest from the B&B. Though I tried to enjoy what I could of the surrounding landscape, large foliage made it difficult to spot anything other than the sporadic rolling hill. It was a little bit more important for us to make sure we hit those turnabouts correctly, though. What I did see of England is definitely beautiful and does remind me of Ireland. Just a bit hillier.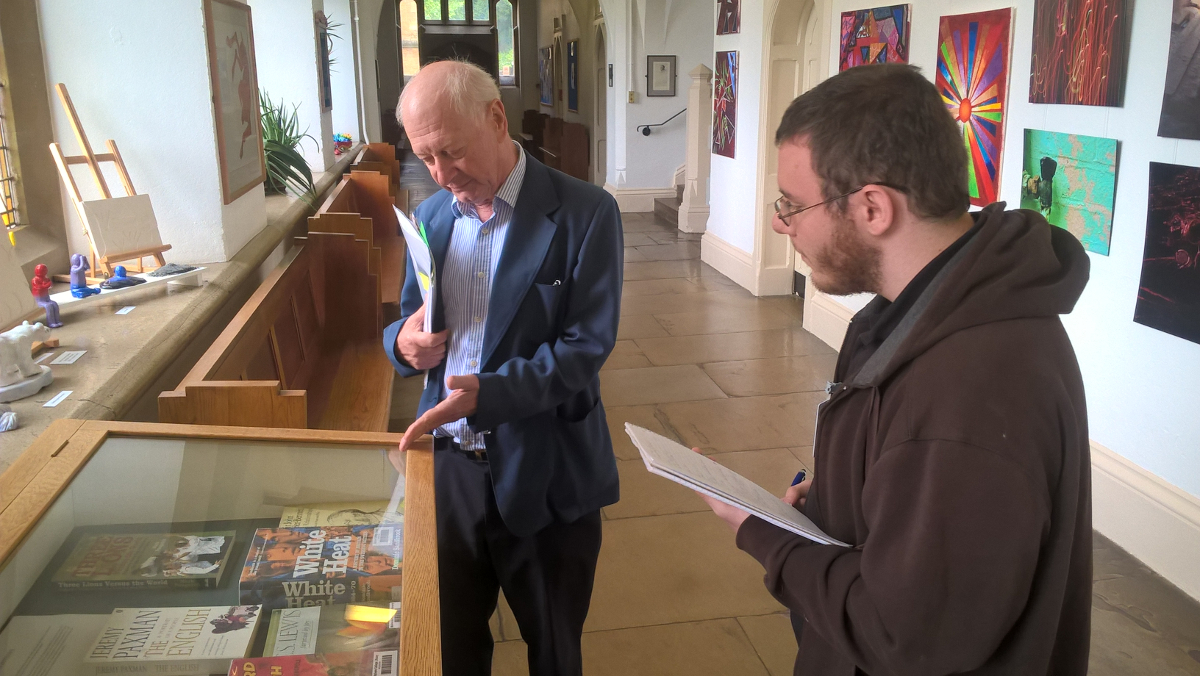 On tour at Malvern College with Ian Quickfall
And speaking of hills, Malvern College is situated up in the side of one, amidst the town of Malvern in the county of Worcestershire in the West Midlands of England (how's that for an address?). Malvern is a boarding school that seems to not only focus on education, but also on instilling leadership qualities in their students as well. According to Mr. Ian Quickfall, the Head Archivist of the school, this is due to strong military ties. Mr. Quickfall led Dad and me on a wonderful tour of the campus, giving me a lot of great information regarding the school, its history, and what it would've been like in Warren's time. There's not much information at the school that exists about Warren himself—his diaries, housed at the Wade Center, provide the best account of a few of the months he attended—but Mr. Quickfall was extremely helpful in giving me a look at the school and further context and information I can use in my project. He allowed me to visually see the world that Warren crafts in his diaries, the world I had only been able to imagine in my head up until that point. Now, it's solidified.
Taking a moment to step away, it's great to think that, only two weeks or so ago, descriptions of this place, this college, were words on a page to me. Anything visual was completely in my head. After today, Malvern is more than that. It's an actual place attended by actual kids and was, at one time, attended by Warren. I walked the grounds and halls he walked. For a moment, I stood in his place, in his shoes.
Back to the tour: not only did Mr. Quickfall provide much-needed contextual information on Malvern, he also gave some really cool facts for me to hold onto, a few of those ice breaker/Jeopardy-answer facts. For example, over a period of five years during World War II, the school was used by the Telecommunications Research Establishment to develop radar to help improve aircraft bomb targeting and shoot down enemy planes. The first plane shot down, actually, by this new radar crashed down behind the hills, close to where this radar was developed. Mr. Quickfall pointed out students that had battled and been killed in various wars, including recipients of the Victoria Cross, the highest military decoration in the Commonwealth. Mr. Quickfall took me back in time, showing me how the college existed back in the day. He was very good at being detailed and answered any question Dad or I asked him. Overall, the tour was fantastic and a great opportunity for research.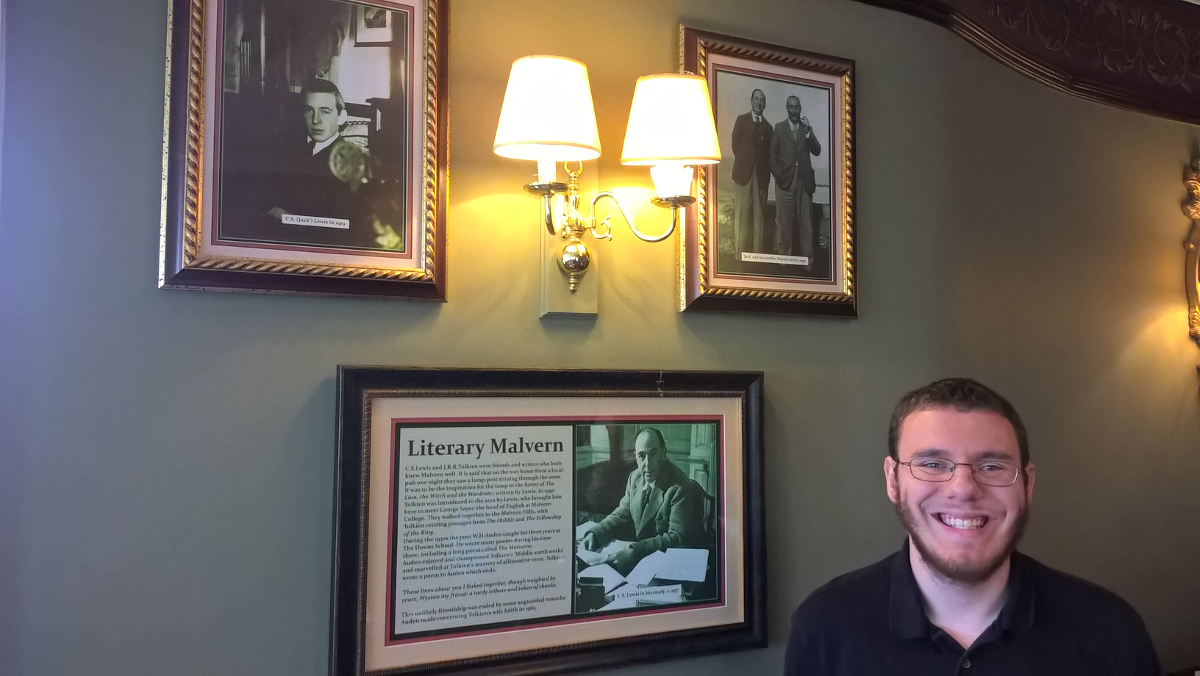 At a local pub frequented by Warren
Afterwards, Dad and I were directed to a restaurant called Weatherspoon's on the first floor of a local pub near Malvern. We were told that there were a few pictures of Jack and Warren on the wall, and we were actually able to eat underneath those pictures, which was a really cool experience. Being the American that I am, I decided to have a hot dog and chips—but this, to my surprise, was a foot-long hotdog served in a French bread bun. Maybe it wasn't the most authentic British meal I could have chosen, but I'm also really picky. I do plan on getting authentic fish'n'chips at some point, however, so hopefully that will make up for my other, more American choices.
Then it was time to head home. We did, sadly, get a little turned around this time, and we also chose to pull into a parking lot and rest our eyes and do some shopping, so our trip back took longer than anticipated. But given the work that was accomplished today, getting a little lost didn't seem like much of a big deal.
Tomorrow, we head to London for some sightseeing. It's time for us to see the city side of England before delving back into research.