Looking for Lewis: Day 9
—by Nathan on June 28, 2016—
Scouring the UK for information on Warren Lewis drew to a close today. It's been a fantastic experience, and it ended with yet another really cool tour, courtesy of Mr. Andrew Lawrence of the Royal Military Academy in Sandhurst.
This was, out of all our drives, the shortest one we had awaiting us. But before we could head forth in our faithful little Volkswagen, I came upon the realization that I had only paid half of the fee for the tour. Now, because we had paid that half using a PayPal account, that was fine, but getting the logistics together of paying the second half had slipped my mind. Add it to the list of mistakes made by an international travel rookie that I will remember to not make if an opportunity like this ever comes up again. Fortunately, I discovered the error, and so Dad and I were able to grab the rest of the cash from an ATM on our way into Sandhurst (and, as an invoice I received from Sandhurst shortly before our arrival indicates, it seems like I may have had some additional time to electronically pay the funds, but, not knowing that at the time, I did get a little worried). Like with the Oxford tour, this was one I went on alone, but my dad was very gracious in waiting for me.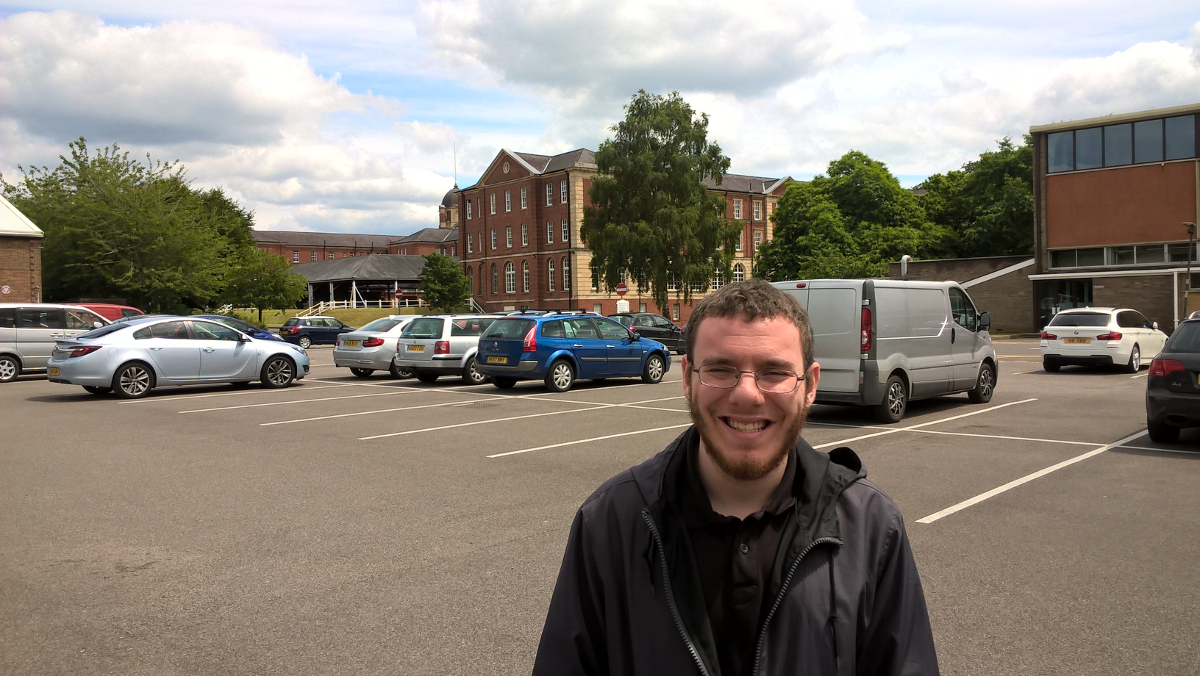 Royal Military Academy (not a great pic, but just to show we were there)
Sandhurst, being a military college, is a little intimidating. Proper military uniforms everywhere. The sound of gunfire from the firing range. Soldiers addressing my tour guide as "sir" as they passed by. I guess "intimidating" isn't the proper word. It wasn't a place where I felt uncomfortable surrounded by all these soldiers; it was more of a feeling of "I have to be extra respectful here." Like you know when you're driving down the road and a police officer appears behind you and you're all of a sudden worried about how fast you're going even though you're pretty sure you aren't going above the speed limit? It's that kind of environment. You're very aware of yourself, and you're very aware of what you should and should not do in this kind of situation. That's how I felt, at least, that I needed to be on my best behavior even though I would never intend to not be on my best behavior.
As mentioned, Andrew (he allowed me to call him "Andrew") provided a really cool tour. He first gave me a very in-depth history of the academy leading up to World War I and past it, skipping over World War I because other things we talked about would cover that. I was especially impressed with his presentation because he pulled out notecards to deliver it. Notecards he had prepared beforehand. The amount of work he had put into this tour was very cool and made me really grateful for all his help. And, on a more personal note, after having had to deliver notecard presentations throughout high school and college, to be the recipient of one was kind of rewarding. Though, how many of my teachers have been the audience of one for a presentation delivered to them in the UK, hmm? Pretty cool.
After hearing this presentation, Andrew and I met with an archivist named Sebastian who showed me records specifically pertaining to Warren. Records that had his name, company, exam grades, etc. Lot of cool information that I hadn't known before. However, they mentioned, there is a caveat: Warren started attending the Royal Military Academy (then known as the Royal Military College) only months before World War I broke out, so his time at the Academy was shortened from eighteen months to 9. Within that time, there are a lot of holes about what he would've actually done, but that's where my imagination comes in. They also gave me some info on the Royal Army Service Corps, where Warren joined, a predecessor to the Corps that Andrew served in. Warren would've primarily been in transportation—of supplies like food and fuel over actual ordnance. Given that he has one account in his diaries about a truck crash he was in, I'm a little happy he wasn't transporting weaponry.
Andrew also showed me other parts of campus, such as the library that would've been a gymnasium at the time that Warren attended and the outside of the building where Warren would've lived and taken courses. He ended the tour at the memorial chapel, an incredible place where the names of Sandhurst students who had died in combat from World War I onward are inscribed. Chapel was mandatory at the time Warren attended, and is still mandatory now, but it seems like an amazing building to just visit. There are names everywhere. They're inscribed on walls, they're inscribed on pillars, they're inscribed on pews. Andrew clearly expressed that Sandhurst is a place that trains up leaders, and these names show that very well. The sacrifices that have been made, the awards that have been won…the number of names is staggering and definitely sad, but it doesn't seem like the purpose of listing each individual is supposed to drudge up feelings of loss. It's intended to uphold, to each person who passes through those walls, the ideals of the college, the ideals of leadership, the ideals Warren would've learned, and the ideals that are still being taught.
After this great tour, Dad and I grabbed a quick bite to eat at McDonald's before heading over to a site where parts of the wall of a Roman city are preserved. The directions Dad's mapping app gave us were, well, fairly poor. A website told us to go the car park and then take a brief walk to the Roman ruins. The mapping app proceeded to guide us down perhaps the narrowest roads we've encountered so far, lined with fields of tall plants that slapped our Volkswagen and obstructed our view of any oncoming traffic, which was already difficult to avoid given how narrow the roads were. It was quite a squeeze.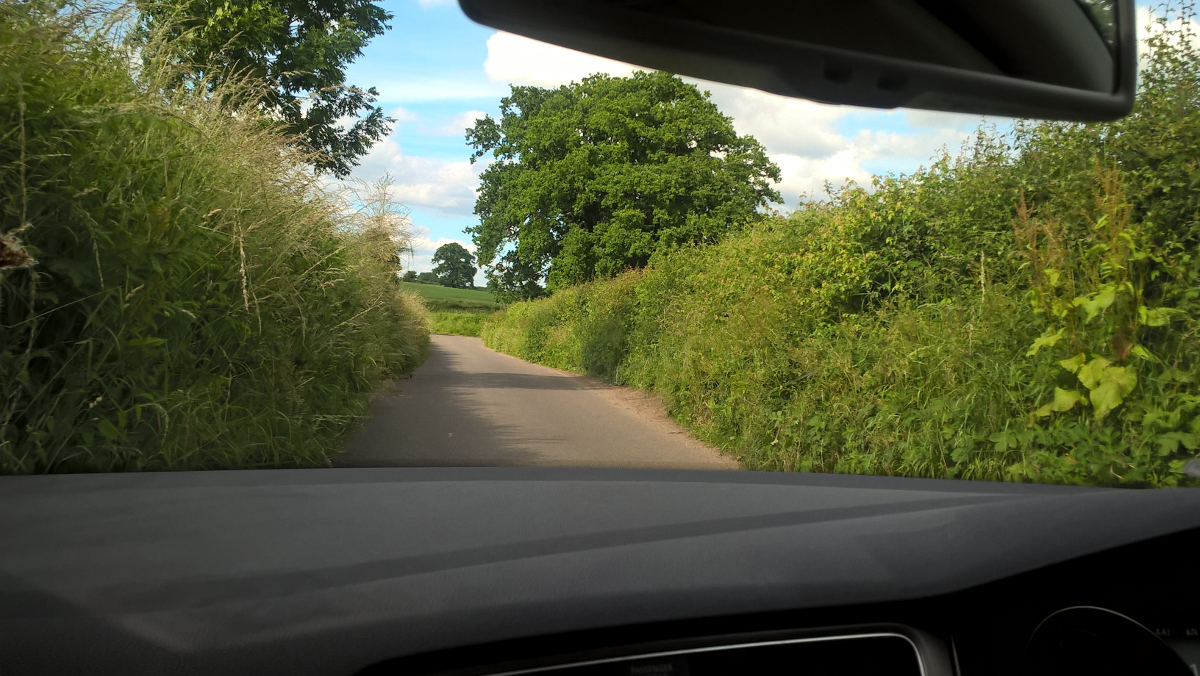 Driving in the UK
Near the marker where the mapping app told us these ruins were—a rather aimless dot thrust into the middle of a field—we did find a trail that led us to a "Car Park" outside what appeared to be a stable for a farm. That's what the sign said at least. However, the obscureness of the area, as well as the signs warning us of guard dogs and the lack of any Roman ruins within our line of sight made us question where we were. Dad finally asked a man approaching the stables if this was indeed the car park we were looking for. "Nope," he said, "this is a farm." He then, very kindly, instructed Dad where we really were supposed to go. We did get a laugh out of him pointing out the place we obviously knew we were at, but he did fix our confusion. Still not sure why he has a "Car Park" sign, though, if it isn't a car park.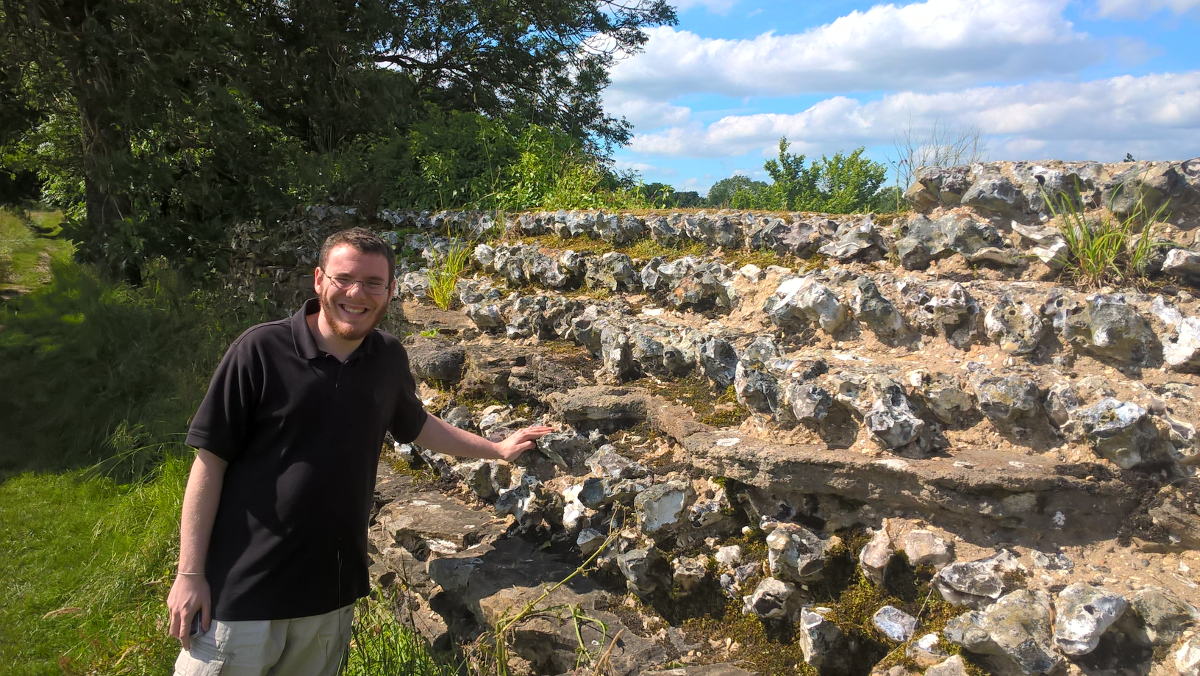 Remains of the Silchester Roman Town Walls
Finally reaching the ruins, we were able to walk around part of what was once a Roman city and through what was once the middle of that city. Very little left of a city after 2000 years, but the remnants we did see looked very intact. We saw various sections of this stone wall that would've, a long time ago, protected the people who lived inside; we glimpsed a crevice where a gate would've once stood; we ambled down a trail that would've brought us down a street through the middle of the city. It's a pretty darn well-hidden ruin, but it's cool to see for the brave souls willing to traverse the wild undergrowth, narrow roads, and fearsome guard dogs.
One more trip to London. The homesickness I felt yesterday? It's still there a little bit, but that will hopefully pass. We've got a little more to experience in England before coming home.