Reading Marvel's Secret Wars Comics
From Battleworld, to Earth, and through the Multiverse, these 4 series should help you prepare for the Marvel Cinematic Universe's 6th Avengers film
—by Nathan on October 27, 2022—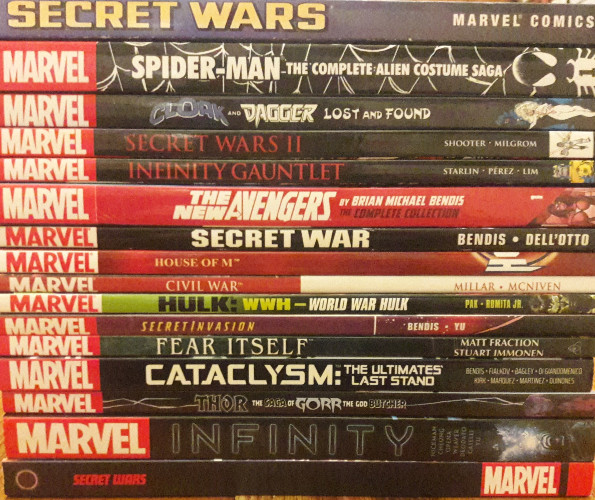 What is Avengers: Secret Wars?
Announced at San Diego Comic-Con in July 2022, Avengers: Secret Wars is an upcoming Marvel Cinematic Universe film, slated for a May 1, 2026 release. Since 2019's Avengers: Endgame, the MCU has steadily introduced new franchises (Black Widow, Eternals, Shang-Chi and the Legend of the Ten Rings) and crafted sequels for previously established films (Spider-Man: Far From Home, Doctor Strange in the Multiverse of Madness, Thor: Love and Thunder). Secret Wars, alongside Avengers: The Kang Dynasty, will serve as the grand finale to Marvel's Phase 6, wrapping up the aptly-titled "Multiverse Saga," a cinematic epic encompassing a myriad of films and television shows.
The term "Secret Wars" has a long history in Marvel Comics lore. At least four different series have borne the title over the last 38 years. Though not every "Secret Wars" comic will have equal bearing on the forthcoming Avengers film, fans curious about the comics landscape would do well with familiarizing themselves with the movie's namesake(s).
1. Marvel Super Heroes Secret Wars (May 1984-April 1985)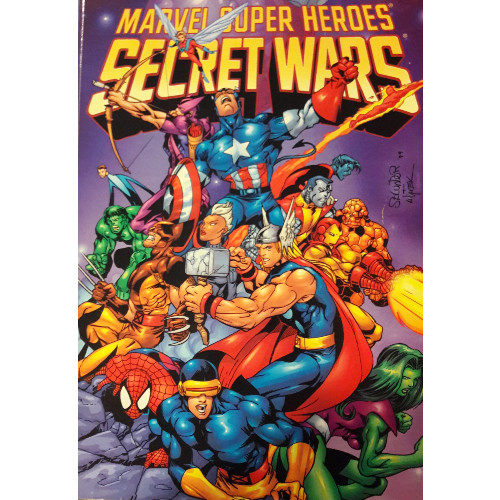 Written by then-editor-in-chief Jim Shooter and illustrated by industry legends Mike Zeck and Bob Layton, Marvel Super Heroes Secret Wars was Marvel's first true company-wide crossover (ignoring 1982's Contest of Champions). The twelve-issue series saw heroes such as the Avengers, the X-Men, Spider-Man, and the Hulk, alongside villains like Doctor Doom, Magneto, Doctor Octopus, and the Wrecking Crew, mysteriously transported to a patchwork planet by an enigmatic deity named the Beyonder. Famously, the series promoted a line of action figures by Mattel and even received its title because kids in focus groups reacted well to the words "secret" and "war."
Organizing a Hunger Games-esque battle royale, the Beyonder pitted heroes against villains, observing their actions. The series, entertaining in its own right, has remained in comic connoisseurs' collective conscious for a few reasons: not only did the original Secret Wars series introduce the Beyonder, but it drove a wedge between X-Men members Colossus and Kitty Pryde, temporarily removed the Thing from the Fantastic Four, and also introduced She-Hulk foe Titania as well as Spider-Man's black costume, the alien symbiote which later became Venom.
2. Secret Wars II (July 1985-March 1986)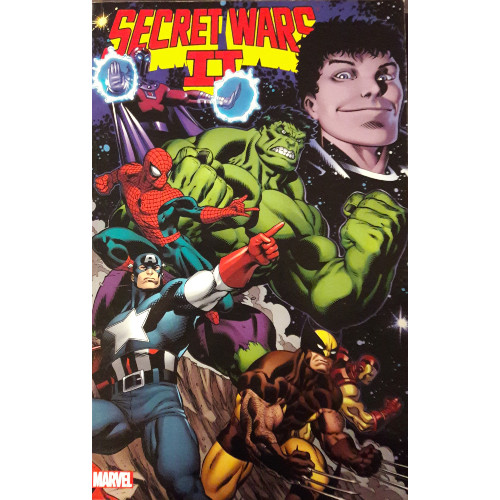 Shooter returned a few months later for a nine-issue sequel, teaming with illustrator Al Milgrom. Shooter reversed the original series' premise: instead of plucking heroes from terra firma, the Beyonder visited them on Earth. The deity was given a Christ-like portrayal, a being of immeasurable power taking human form to walk amongst mankind. The Beyonder learned from his experiences, gaining an understanding of romantic love, finances, and the importance of food and hard work.
Though Secret Wars II sold well, the series was not as well-received critically as its predecessor. While the original series was a largely standalone narrative unfolded over several issues, Secret Wars II branched out across multiple titles. This meant that, while Shooter governed the primary narrative, he was also subject to the whims of other creators on titles such as Spectacular Spider-Man, Captain America, Doctor Strange, and Cloak and Dagger.
3. Secret War (February 2004-December 2005)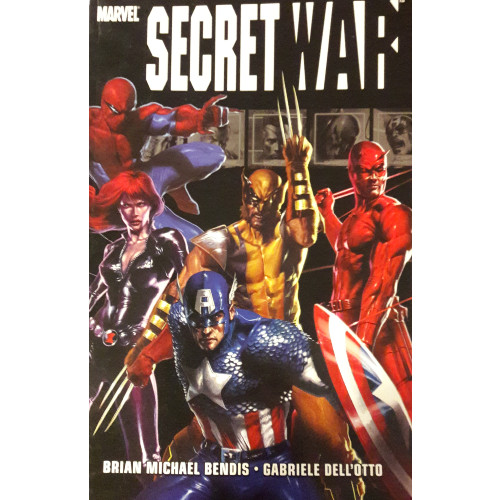 Jumping ahead nearly two decades, we come across the least-likely series to influence the 2026 Secret Wars film. Painted by Gabriele Dell'Otto and scripted by famed comics scribe Brian Michael Bendis, Secret War (singular) is less space opera and more political thriller. When several heroes–including Spider-Man, Luke Cage, Wolverine, and Captain America–are attacked by a host of supervillains, the heroes investigate. They soon discover they're being targeted by Lucia von Bardas, the current prime minister of Latveria, former kingdom of Doctor Doom.
Von Bardas' aims are retaliatory, responding to a prior attack by these heroes on her country, which our costumed compatriots cannot remember. The series is known for removing Nick Fury as head of S.H.I.E.L.D. and replacing him with Maria Hill; repercussions following this arc would be explored by Bendis and other writers through various early 2000 event series, including Civil War, Fear Itself, Secret Invasion, and Siege.
4. Secret Wars (May 2015-January 2016)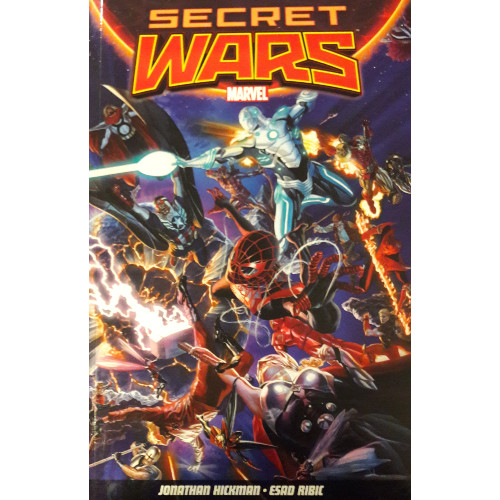 Capping off writer Jonathan Hickman's acclaimed runs on Fantastic Four and Avengers, the 2015 Secret Wars series put infamous Marvel supervillain Doctor Doom center stage in a saga spanning the multiverse. Illustrated by Esad Ribic, Secret Wars incorporates multiple Marvel Universes, composing an interdimensional world ruled by Doom's iron fist after the monarch achieves godlike powers.
This Secret Wars is a love letter to both the original Marvel Super Heroes Secret Wars and the Marvel Multiverse, drawing in characters from Marvel's primary universe (designated "616"), the Ultimate Universe, the Marvel Zombies Universe, the 1602 Universe, the Age of Apocalypse Universe, and several others. Explored through a main nine-issue series and several spinoff issues and series, Secret Wars reshaped the Marvel Multiverse on a cosmic scale, kicking off a brand Marvel labeled "All-New, All-Different." The series has a culminating energy the movie will most likely try to emulate.
There are, naturally, dozens of series, events, and crossover story arcs fans could peruse, intertwining themselves between the four narratives listed above. Hopefully, the above list will help fans keep their "secrets" and "wars" straight and offer a basic understanding of the stories which may influence the 2026 Avengers film.
Outline:
Keyword selected: "secret wars"
Utilizing Semrush, I discovered that the phrase "secret wars" was found across multiple searches (including "avengers secret wars," "marvel secret wars," and "secret wars 2015") as well as questions (such as "what is secret wars" and "what is secret wars about"), mostly for informational purposes. I decided my post would be informational, offering brief glimpses into four different comic book story arcs containing the phrase which may have an influence on the upcoming Avengers film. This premise lent itself easily to the listicle format, allowing me to separate out each story arc in its own section, highlighted by a section header and photograph.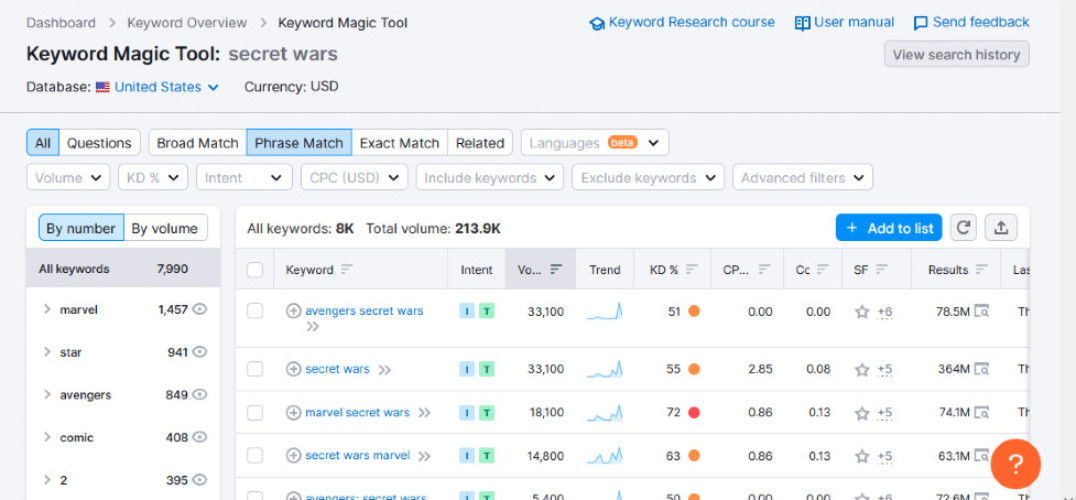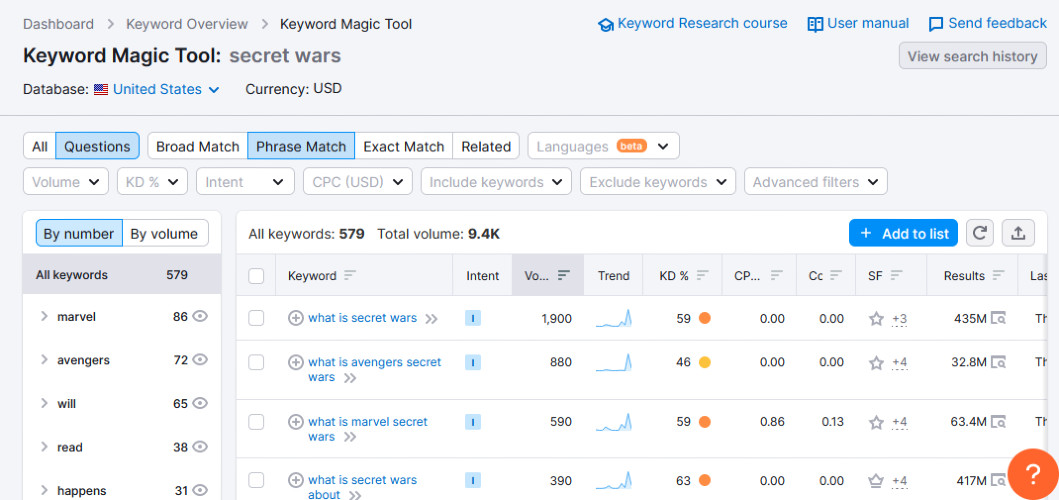 The outline works as follows:
Introduction: What is Avengers: Secret Wars?
Arc #1: Marvel Super Heroes Secret Wars
Arc #2: Secret Wars II
Arc #3: Secret War
Arc #4: Secret Wars
Concluding Paragraph
Each "Arc" paragraph consists of an introductory photo and a brief description of the narrative and its impact (if any) on the broader Marvel Universe.