Distinguished Critique: Superman: The Man of Steel Review
Despite an awkward final issue, John Byrne's limited series successfully reintroduces Superman into the post-Crisis world
—by Nathan on April 29, 2023—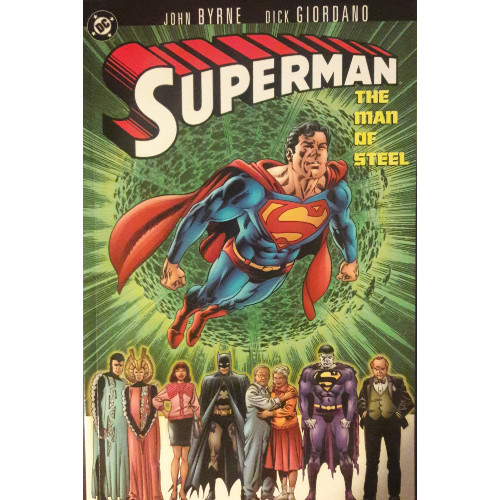 You've seen it on the page or on the screen. You know the story beats by heart at this point, even if you didn't grow up reading comics or knew anything about comics. Superman's origin–from his fated flight from a planet in peril, to his crash-landing in the middle of a Kansas farm field–has been told and retold dozens of times across multiple forms of media. One of the first superheroes, Superman has existed on and off the page for decades, his incredible feats of heroism and nigh-invulnerable form balanced out by his very human, mild-mannered guise as Clark Kent. Reporter. Farmboy. Hero. Justice League member. Legion of Superheroes teammate. Supes has done a lot in his last 80 years of his existence.
With 1985-86's mega-crossover event Crisis on Infinite Earths having distilled the multiverse-spanning DC realm down to a single universe, changes were required. The old was fading away, and a new era of epic heroism was being born, wrangled out of the increasingly complex past. Shortly before Frank Miller brought Batman back to his street-level, noir roots with the beloved "Year One" storyline, artist and writer John Byrne was tasked with reevaluating and re-envisioning the early days of the Man of Steel. About half a year after the DC universe was irrevocably altered forever, Superman himself underwent changes which would shape his corner of the world for years to come.
Superman: The Man of Steel
Writer: John Byrne
Penciler: John Byrne
Inker: Dick Giordano
Colorist: Tom Ziuko
Letterer: John Costanza
Issues: The Man of Steel #1-6
Publication Dates: October 1986-December 1986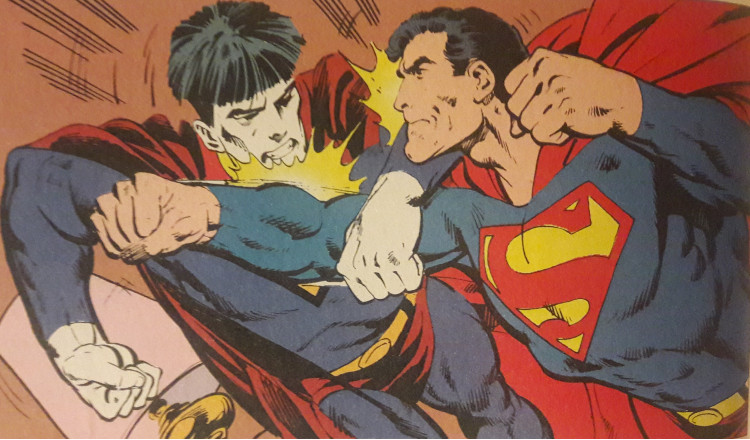 Note: save for some minor edits, this blog is the same as it was when I originally posted it to Hubpages
At one time, John Byrne was hot stuff. Noted for revitalizing the Fantastic Four and helping sculpt a swath of impressive X-Men stories alongside Chris Claremont (including the famous "Dark Phoenix" and "Days of Future Past" arcs), Byrne was a household name at Marvel before temporarily switching over to DC and relaunching Superman with this initial six-issue limited series. Byrne would go on to script and illustrate several issues of Superman's second ongoing series after the success of this revitalization.
Much like Frank Miller did in "Year One," Byrne's series pulls a famous DC hero into "today," or at least into the modern world of the late 80s. In that regard, Byrne's transition is not quite as flawless as Miller's; with "Year One," Miller created a story that could be read in any era, largely stripping his world of cultural references and cementing Gotham City within a grim atmosphere. Granted, nobody's using cell phones or accessing the world-wide web, but Miller's work doesn't feel dated or intentionally meshed with a certain time period. Byrne's story, at times, feels a bit more focused on a particular time and place, specifically the tail end of the Cold War. For a moment, Ma and Pa Kent wonder if the alien ship their adopted son arrives in is of Russian origin; a few references are made here and there to politics at the time; Superman, near the end, takes a patriotic stance towards his upbringing.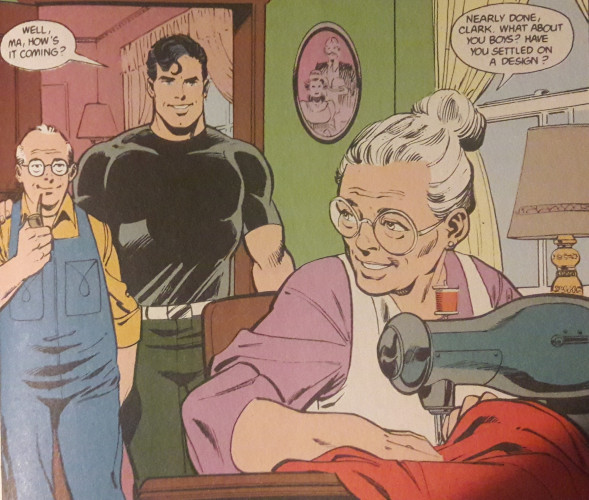 These references aren't distracting, necessarily (they're not nearly as egregious as Byrne's comments on computers in his Spider-Man: Chapter One series, which I will explore in the far future), nor would I argue that it's poor writing on Byrne's part to situate his story in the times he was living. Perhaps fears of a Russian spaceship aren't as comprehensible today, but they might have made more sense in 1986. If anything, the era in which Byrne's series takes place helps cement the Superman/Lex Luthor conflict. Byrne reframes Luthor, who had been portrayed as a kooky scientist or supervillain in the past, bent on destroying Superman for some slight. Under Byrne's direction (with some help from Marv Wolfman), Luthor becomes one of the most powerful businessmen in the country–Byrne himself has admitted to basing the character off Donald Trump–providing a much more subtle societal context for Superman to slip into.
Luthor becomes a fascinating juxtaposition to Superman, especially as Byrne relates the start of their rivalry. The farm boy-turned-superhero, who wishes nothing but to help people, comes up against the incredibly rich Luthor, whose philanthropic facade is uncovered surprisingly early. Byrne doesn't craft a villain who capably hides beneath his wealthy veneer for long. I was actually astonished at how quickly Luthor's villainy was made known to the general public, expecting some sort of Kingpin-esque criminal whose wealth and influence kept him out of prison. I mean, sure, Luthor isn't in jail for long, but still...he's exposed for the corrupt braggart he is. Byrne doesn't verbalize it, but it's humorous when you realize that Luthor fails to hide behind all his industrial power when all Clark Kent needs is a pair of glasses to disguise his own true identity. As Luthor loses more and more of his dignity with each passing attempt at defeating Superman, he also loses his hair. Not only are his truer, more vile machinations exposed, so is his physical vulnerability. The deeper he falls into his obsession, the less physically opposing and more insane he appears. Still methodical, but clearly mad.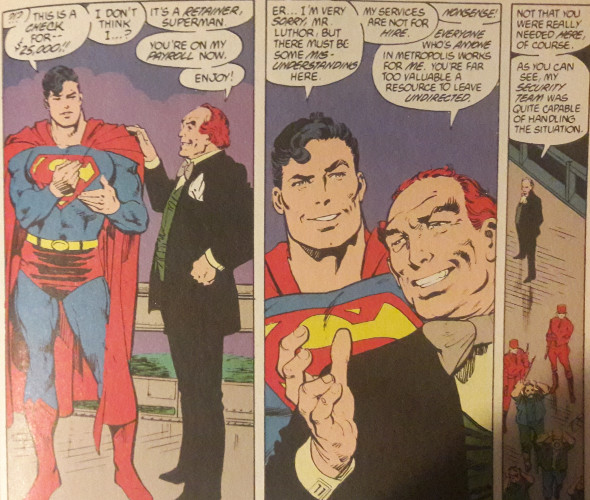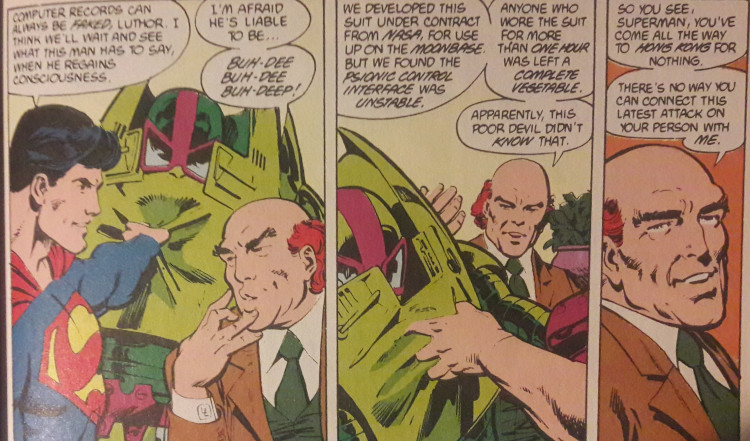 "True identity" becomes an engaging trope for Byrne to fall back on throughout the series. The conflict of "Clark Kent vs. Superman" becomes apparent through the six issues, whether it's Clark coming to terms with his abilities and origin or adapting to the world around him. A humorous scene sees Lois comment on Clark's light bodybuilding weights (a ruse to explain why he's so fit), with the ruffled Superman mentally slapping himself in the forehead when he realizes his super strength kept him from determining proper weight sizes (or, instead of not knowing his own strength, he's doesn't know what Clark's strength should be). He wrestles with his own dawning affections for Lois, amusingly commenting that his greatest rival is, of all people, Superman! The series ends with Clark absorbing centuries of Kryptonian information...before promptly sidelining it. He's human, thank you very much. Krypton is gone, and though he may be the last surviving member of his race, he owes much more of his upbringing to Earth than his home planet.
This ending, I'll note, a strange, somewhat puzzling scene to wrap up the series with. In mere moments, Superman downloads all this information, vitally important to his race, and just instantly chalks it up as "mental mementos" of sorts. Byrne's argument for Clark being human is somewhat interesting, cementing his position as his adopted home's defender. Unfortunately, this fails to acknowledge another fascinating duality in Superman's life: his human persona vs. his birth race. Byrne engagingly toys with dichotomies–Superman vs. Luthor, Superman vs. Batman, Superman vs. Clark–so to have such an interesting angle seemingly discarded ends the series on a slight low note.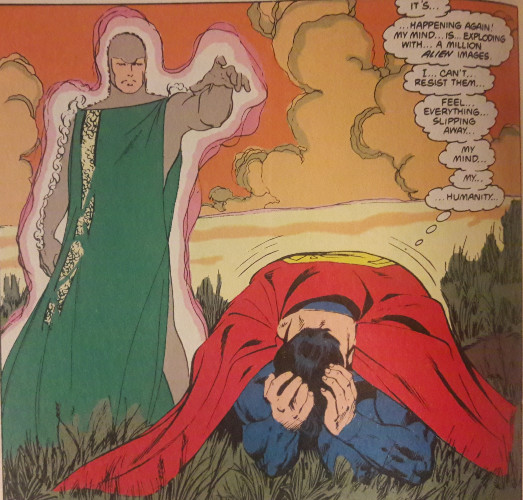 This isn't to say Byrne fails to "get" Superman. A contemporary of Miller's "Year One," or even The Dark Knight Returns or Alan Moore's Watchmen, Man of Steel avoids the dark grit that seeped into comics at the time. We've got a genuinely fun series here, one which strips away all the planet-saving and galaxy-scouring to hone in on a smaller scale origin. This is Superman at his most basic–the Kyrptonian alien who adapts to humanity, creates an identity for himself, falls in love, and fights for truth, justice, and (apparently) the American way. He catches planes and stops muggers. He can bend a gun barrel between his forefinger, but he's not benching planets just yet (though explanations indicate this was an opportunity DC used to de-power Supes just a tad). He's got a city to keep safe, and by golly, he might as well have fun while doing it.
There's a jovial spirit to his adventures as Byrne presents, yet another engaging departure from Clark's black-clad buddy over in Gotham City. Supes and Bats interact in the series' third issue, with Byrne looking to establish parallels and differences between the two heroes early on. His Batman is suspicious of the alien hero and seemingly cold to the safety of others, eliciting a visceral response from Superman. Batman's a thinker and a planner, and he analyzes Superman to make certain the Man of Steel isn't a threat. Superman, too, examines his soon-to-be ally, establishing a relationship between them as shaky but filled with possibilities. I am unaware how future stories brought the crime-fighting duo together, but Byrne at least establishes the potential.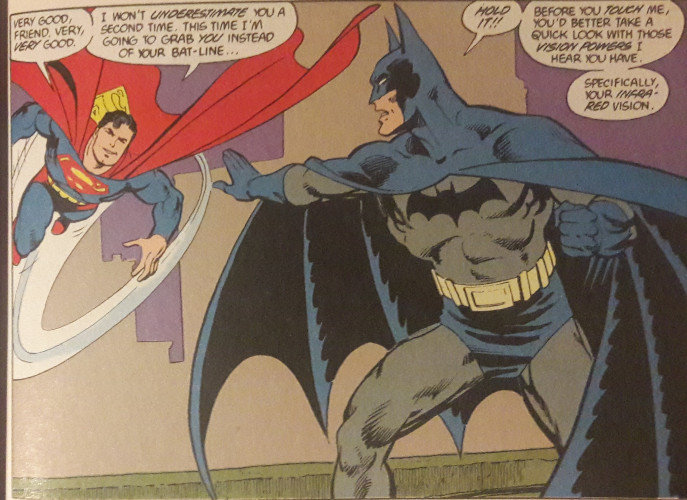 That's perhaps the most important word to describe Byrne's series: "establishing." He's pouring a foundation, utilizing his series vignette-style to craft a base on which future Superman stories can be constructed. Though Byrne certainly has elements which work across several issues (such as the enmity Luthor develops towards Superman), each issue feels purposefully standalone in some respects. We've got Superman's first interactions with Luthor, Batman, Lois, Bizarro, Metropolis, his Kryptonian heritage. Byrne crafts a strong section between Clark and Lana Lang, his Smallville sweetheart, in one part an issue; another issue dedicates a portion to a deep discussion between Clark and Pa Kent as the older farmer reveals the true nature of his son's birth. It's easy to read these issues side-by-side, but Byrne wants the reader to absorb each chapter one at a time. Soak in the story elements, be engaged with the details. Each issue is a snapshot of a building block, allowing Byrne to string several classic elements of Superman's history together without overwhelming the reader.
We get a skyscraper, then, jutting into the heavens above Metropolis. Steel beams hold each floor as Byrne builds, making sure levels are unique while simultaneously supporting what's constructed atop it. Maybe some of the elements are a bit shaky or loose–the series' ending feels a little at odds with what's come before–but Byrne's edifice is largely firm. Readers today look back at Man of Steel as not only one of the essential Superman stories but also one of the best retellings of Kal-El's origins. In the wake of Crisis on Infinite Earths, Byrne performs admirably, pulling double-duty as writer and penciler as he builds a brand new world around Superman, blending the worlds of Clark Kent and Kal-El in kicking off a new mythology for the Last Son of Krypton.