(Strand)om Stories: Moon Knight Epic Collection: Bad Moon Rising Review
This Epic Collection may stumble in some places, but it's generally a strong introduction to the ever-developing Moon Knight
—by Nathan on May 23, 2023—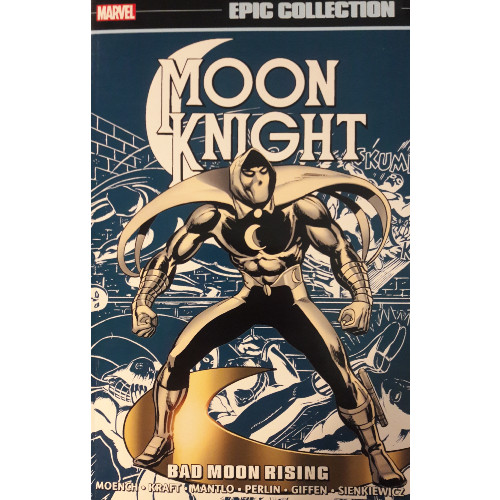 Marvel and DC are rather famous for creating analogues and parodies of each other's characters. The Sentry, Hyperion, and the Blue Marvel are all built around Superman's core characteristics. Thanos started out as a Darkseid ripoff. Cyborg Superman, one of several Superman replacements after the Man of Steel was "killed" by Doomsday, began life as Hank Henshaw, one member of a four-man crew which originally aped the Fantastic Four's origin.
And who can't resist a good Batman impression?
Nighthawk, Hyperion's fellow Squadron Supreme teammate, certainly fits the bill. But so does another nighttime vigilante, as I pointed out a while ago. Sometimes-rich millionaire by day Steven Grant dons the white cape and cowl of the Moon Knight under the moon's light. And when he isn't chasing criminals through New York or attending glitzy social functions, Grant can be found driving a cabbie around the city streets as Jake Lockley…and before all this, he frequently underwent mercenary escapades as capable combatant Marc Spector.
Confusing? Yeah, it can be. The question is often floated around about Spector's Detective Comics counterpart, "Is Batman the mask Bruce Wayne wears…or is Bruce Wayne the mask Batman wears?" Will the real Bruce Wayne please stand up? Except, the thing is, they are both Bruce Wayne, two different aspects to the whole man. Even when Bruce goes undercover as Matches Malone, he's merely donning a disguise. Spector's situation is…a little different.
After watching and genuinely enjoying the Oscar Isaac-led Disney+ Moon Knight series, I wanted to learn more about the man (or would that be men?) behind the Moon Knight's mask. I tracked down his earliest adventures, recently reprinted in an Epic Collection, to see what I could learn about a character I was as unfamiliar with as I am with the complexities of dissociative identity disorder. Because Moon Knight played such a significant role in an Amazing Spider-Man arc I recently reviewed, now seems the right time to explore waxing and waning of Moon Knight's first several appearances.
Moon Knight Epic Collection: Bad Moon Rising
Writers: Doug Moench, David Anthony Kraft, Bill Mantlo, and Steven Grant with Roger Slifer and John Warner
Pencilers: Don Perlin, Keith Giffen, Mike Zeck, Jim Mooney, Jim Craig, Gene Colan, Keith Pollard, and Bill Sienkiewicz
Inkers: Howie Perlin, Don Perlin, Klaus Janson, Dan Green, Mike Royer, Keith Giffen, Bruce Patterson, Mike Esposito, Pablo Marcos, Tony Dezuniga, Josef Rubinstein, Bob McLeod, Bill Sienkiewicz, Tom Palmer, and Frank Springer with Frank Giacoia
Colorists: Phil Rachelson, George Roussos, Irene Vartanoff, David Anthony Kraft, Don Warfield, Ben Sean, Steve Oliff, Bob Sharen, and Carl Gafford with Janice Choen, Andy Yanchus, Marie Severin, and Francoise Mouly
Letterers: Ray Holloway, Debra James, Irving Watanabe, John Costanza, Annette Kawecki, Bruce Patterson, Joe Rosen, Rick Parker, Jim Novak, Elaine Heinl, and Tom Orzechowski with Mike Royer
Issues Collected: Werewolf by Night #32-33, Marvel Spotlight #28-29, Defenders #47-50, Peter Parker, the Spectacular Spider-Man #22-23, Marvel Two-in-One #52, Moon Knight #1-4, Hulk Magazine #11-15, #17-18, and #20, and Marvel Preview #21
Volume Publication Date: June 2021 (latest printing)
Issue Publication Dates: August-September 1975, June 1976, August 1976, May-September 1977, September-October 1978, December 1978, February 1979, April 1979, June 1979, October 1979, December 1979, March-April 1980, November 1980-February 1981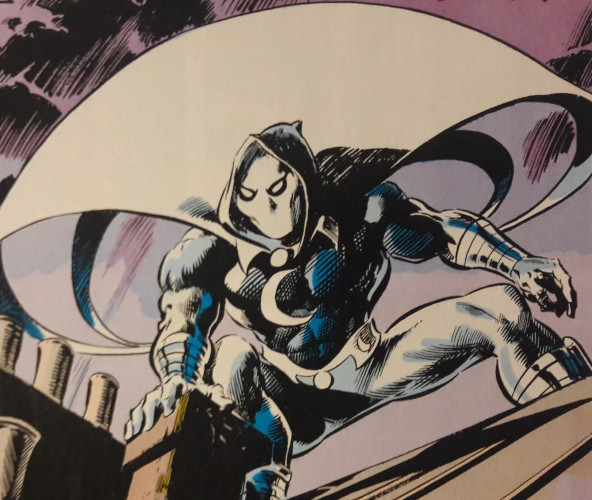 Much like the celestial satellite he's named after, Moon Knight is a man of many phases…and faces. This Epic Collection provides the character's development across his first five-and-a-half years, showcasing how some creators knew how to craft the vigilante well…while others weren't quite sure how to handle the man in the white tights.
We can credit writer Doug Moench with co-creating the character, initially visualizing him as an adversary for Jack Russell's Werewolf-by-Night. I don't know enough about Moon Knight's history to understand how he went from "one-time werewolf sparring partner" to "recurring vigilante," but in just a handful of issues, Moench creates a surprisingly decent bit of world-building–we're quickly introduced to Moon Knight's pilot Frenchie, his Pepper Potts-esque assistant/love interest Marlene, and his three identities (not counting his cape-and-cowl counterpart): fat cat Steven Grant, taxi cab driver Jake Lockley, and mercenary Marc Spector, who is eventually cemented as Moon Knight's core identity.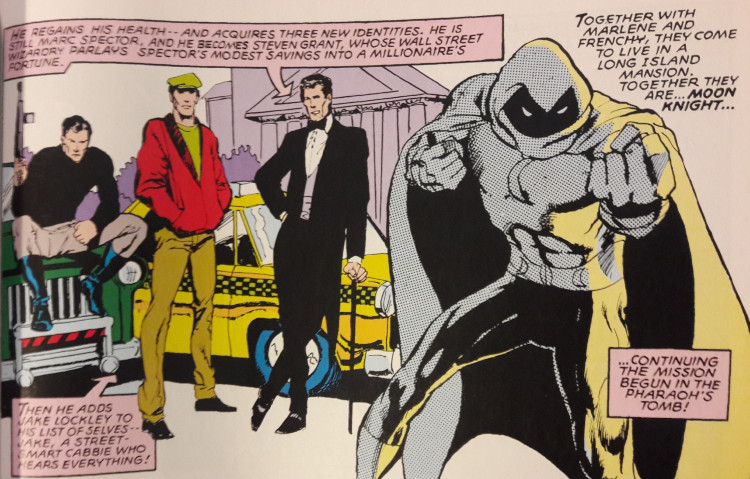 The subject of "identity" plays a vital role as the character's appearances accumulate; what starts off as a seeming series of masks Marc exchanges depending on the situation–much like the Bruce Wayne/Matches Malone dichotomy–deepens just a smidge the further you get into the volume. Moench starts presenting Marc as a man seemingly divided, switching personalities at the drop of a hat and worrying Marlene by how easily he can assume a new identity. The word "schizo" is unceremoniously dropped into the text a few times, pointing out Marc's divided nature.
Moench's treatment of Marc's personalities isn't gentle–he's not terribly interested in exploring potential mental illness as he is toying playfully with a character concept. Yes, the hint lingers that Marc's mind isn't exactly whole, but we get no indication of familial situations, trauma, or other events which may have altered Marc's psychology early on or any sense of treatment for Marc's condition. If anything, Marc has simply created four personas he routinely switches between and sometimes struggles to remember who is who.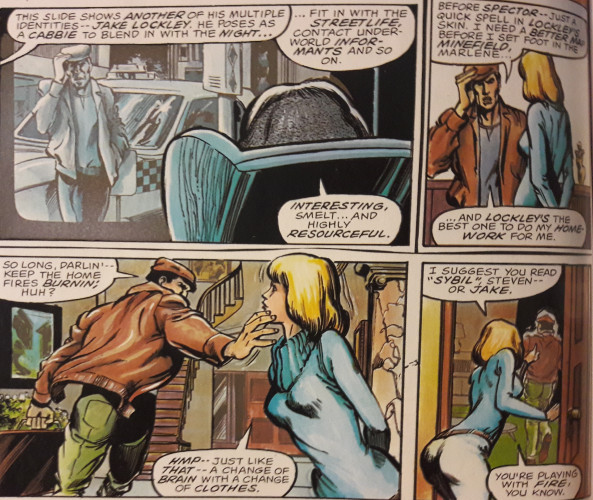 Among our nest of writers, Moench seems the most invested in the character, which offers perspective on his Marvel coworkers; given the plethora of individuals sculpting Moon Knight's early adventures (just look at the credits above), I entered the volume a tad worried. I assumed the collection would lack focus and feel more like an anthology, that with so many creators grasping at the character, we'd get a carousel of bits and pieces which never congealed. And the volume does feel that way…for a time. Other writers seem intrigued by the concept but, as I indicated before, don't really know how best to utilize the character other than as a guest star in other titles.
David Anthony Kraft (who, along with Moench, is no stranger to nocturnal narratives) plops Moon Knight into a multi-part Defenders story arc where he aids Valkyrie and Hellcat in leading the Hulk to a skirmish with Scorpio and his new Zodiac; Bill Mantlo brings him into brief conflict with Peter Parker in Amazing Spider-Man's sister title before having Moony and Spidey team-up against the tornadic terror known as Cyclone; and Steven Grant (no relation to the Moon Knight alter ego) pits him and the ever-lovin', blue-eyed Thing against Crossfire, a criminal with a surprising connection to Mark Spector's past. Moon Knight, when he isn't being crafted by Moench, floats on his crescent-shaped cape through other titles, living from guest appearance to guest appearance. Grant, at least, seems interested in adding to Moon Knight's backstory through the introduction of Crossfire, but otherwise, Marc Spector lives up to his last name–a spectre, a ghost wrapped in white. No one addresses the identity concept, and few other writers touch on his history and supporting cast.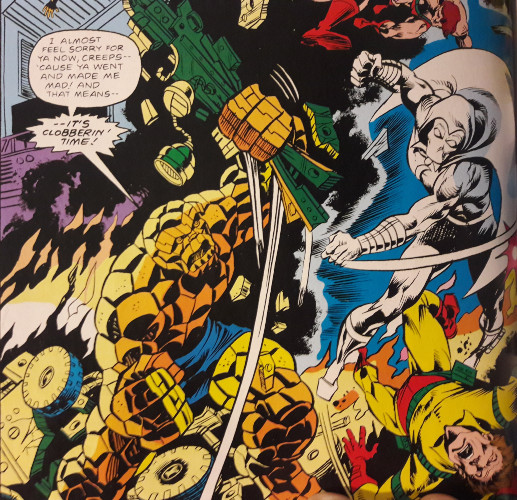 Moench delivers the lion's share of world-building, pouring in a series of new characters and an ever-developing backstory which shifts and changes as the volume continues–a narrative told in the fourth issue of Moon Knight's first solo series retcons an aspect of the character's history as told in the Werewolf-By-Night issues. Yet this change feels fluid, not too abrupt, and not too disruptive for a relatively new character who can use the additional depth. Spector's greatest asset is that he's a man with a history, initially hinted at but broadened as the volume builds. This isn't like Peter Parker, whose pre-Spidey history consists of few adventures or anecdotes to construct present day Peter upon. Marc Spector has years of mercenary missions that can continue haunting his present, bits and pieces of lore drawn into the "modern day" as he gallivants across rooftops.
Can the occasional retcon or revelation feel somewhat clunky? Sure. When Moon Knight just so happens to interact with the third or so individual he knew as Marc Spector–old acquaintances, friends, even enemies–the trick can begin to feel a tad old. But I can wave away the coincidence surrounding those first few interactions; again, in a way, it makes some sense–Spector was a mercenary who developed quite the reputation with multiple shadowy individuals. As a hero, Moon Knight seems primed to cross swords with at least a few of those folks. Part of me pictures a series where Spector intentionally attempts to redeem his past by cleaning the blood off his hands as a mercenary, but coincidence seems the prevailing notion behind these first several interactions.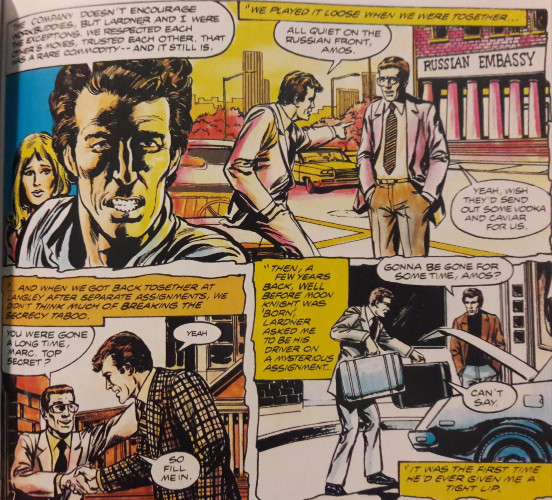 Moench's writing is at its best when he's paired with artist Bill Sienkiewicz, who continues developing a unique style at this point–it's not as "trippy" as work seen in his Daredevil, X-Men, or New Mutants contributions. Different inkers and colorers offer Sienkiewicz's pencils different looks, with his Hulk Magazine contributions feeling closer to what you'd see in Marvel graphic novels like Chris Claremont and Brent Anderson's God Loves, Man Kills or Bernie Wrightson's Hooky. His work on the first four issues of Moon Knight's first series feels more akin to regular comic book fare, with maybe a hint of the artist he'd develop into during the mid-80s on work such as New Mutants and Daredevil: Love and War.
Gene Colan, who contributes to a Hulk Magazine chapter, deserves praise as well–his and Sienkiewicz's "chapters" of a four-part narrative flank a segment penciled by Keith Pollard. Pollard does fine work, but he's nowhere near as unique as Colan and Sienkiewicz, who both seem to mimic Neal Adams at points. I'm fond of Colan's contributions to a few Blank Panther and Wolverine stories I read a while back and enjoy his work here; together, he and Sienkiewicz elevate the comic out of "regular comic art" status, which is a label I just cannot give Pollard. Good as he is, he simply offers standard fare you see elsewhere in the volume, easily mingled into Moon Knight's first appearances and the Defenders arc, where penciler Keith Giffen seems determined to perform his best Jack Kirby impression.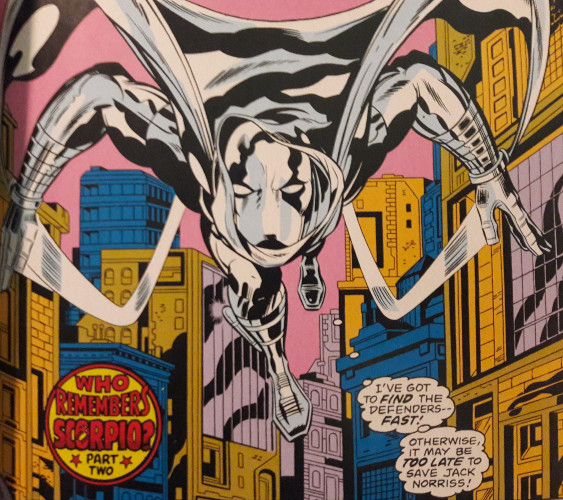 It may be titled Bad Moon Rising, but this Epic Collection has a lot more good than not. If you're willing to muddle through some of the middling stories by writers who do well at their work but seem clueless on how to use this new caped crusader, you'll hopefully be won over by the deep characterization Moench puts in, particularly when paired with Sienkiewicz. We are not at a place where one can defend the soundness of Moench's psychological theories or concepts in crafting the character, but you are welcome to empathize with Marc Spector and his alters even if that wasn't the writers' intentions. We will have a little ways to go before the physical issues address the psychological issues, but we'll get there. If you're willing to bypass some possibly problematic personality traits, you'll find a character much deserving of exploration–we get a lot here, and most of it is highly entertaining, but I get a feeling we're only scratching the moon's surface.